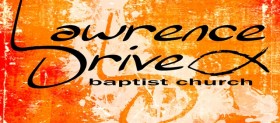 Lawrence Drive Baptist Church
5774 School Rd
Macon, GA 31216
t. 478-788-2571
f. 478-781-9665
Posted: January 02
If you haven't signed your 3rd through 6th grader up for Centrikid yet, it's not too late. Come by Kidz World and let us know that your child will be attending and get all the info that you need. We will be going to Ridgecrest, NC June 22-26. They will not want to miss this!
| | |
| --- | --- |
| | 6 likes |
Posted: December 13
M56 and Kidz Rock (kindergarten through 6th grade) will be going caroling tomorrow night. We will be leaving at 6:30 pm (so arrive a little early if possible) and return for a Christmas party in Kidz World. Everyone should meet in Kidz World prior to leaving. There will be child care at the church begininng at 6:30 pm for those younger than kindergarten. Can't wait to see you there!
| | |
| --- | --- |
| | 4 likes |
Posted: November 09
40 children praying that 62 shoeboxes will show the love of 1 man,Jesus, to a child who so needs to hear.
| | |
| --- | --- |
| | 16 likes |